Automotive glazing
Repair and replacement of glazing is extremely common and often carried out away from the company premises so instruction and training are key factors to safe working.
Particular hazards include:
cuts from broken glass or cutting tools. Long knives are responsible for numerous serious accidents – use a safer alternative;
manual handling injuries (commercial vehicle and public service vehicle glazing can weigh up to 100 kg, and access to the windscreen area of the vehicle can be difficult);
working at height;
contact with hazardous chemicals (eg sealants);
environmental hazards (working at the roadside, adverse weather etc).
Some operational risks may be anticipated, whilst others may arise in individual circumstances and require a risk assessment to be carried out at the time. Mobile technicians will need to be trained in on-site risk assessment.
Installation of a particular screen without undue risk of a manual handling injury will depend on:
the weight and shape of the glass;
the height from the floor and angle of the vehicle aperture, which determines the arm extension and posture required by the technician to position the glass;
the individual capabilities of the person;
other factors such as wind loading.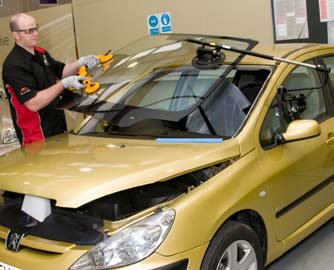 In some circumstances a single-person lift will be unacceptable and a lifting device or a second person will be required.
Use an access platform for work at height, which has sufficient stability and is capable of supporting the load of two people and the screen.
Technicians will normally require the following PPE:
safety footwear;
cut-resistant (eg Kevlar) gloves and sleeves;
suitable eye protection;
chemically resistant gloves (eg disposable nitrile);
mobile technicians will also require a high-visibility vest (see BS EN 471:2003 High-visibility warning clothing for professional use);
weatherproof clothing;
a first-aid kit and a means of communication (eg mobile phone).