Enclosing a can filler
The problem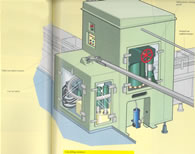 A soft drinks can filling line, operated by a large food manufacturer, contained three closely-spaced machines, a can filler, an aeration unit and a lid seamer for closing the filled can. The machines were all situated in a reverberant room where A-weighted noise levels of 99 dB were measured.
The solution
Noise reduction was achieved by fitting the seamer with an acoustic enclosure, specifically designed to meet hygiene and access criteria.
The basic panel work of the enclosure consisted of polypropylene and 13 mm thick ME grade Perspex sheet (ie suitable for enclosures and guards), chosen for their durability under repeated chemical cleaning. Where visual inspection was unnecessary, the panels were lined with 25 mm, acoustically absorptive foam, wrapped in an impervious film to stop oil and moisture getting in. All doors were provided with safety interlocks to prevent access while the seamer was in operation.
It was necessary to leave infeed and discharge areas of the enclosure open, for example to clean the seamer and to clear jams. This inevitably reduced overall enclosure performance. However, the directional high-frequency character of the noise could be blocked from the main source areas.
The cost
About £5000 (1988).
The result
A noise reduction from the seamer of 17 dB.
Source
Information supplied by SmithKline Beecham Consumer Healthcare.