Two-Hand Control at Hydraulic Presses
SIM 03/2012/02
Author unit / section: DCE Office/OPSTD/Manufacturing Sector/Engineering Industries
Target audience: All HSE Visiting staff
Issue date: 01/02/12
Review date: 01/02/13
Summary
This guidance explains the agreed EU position on the conditions necessary for using two-hand controls as the sole device for safeguarding against mechanical hazards in the tools area of hydraulic presses in production mode.
Purpose
This alerts front line staff to an important update to EN 693:2001 'Machine Tools – Safety – Hydraulic Presses'(set out in amendment A2:2011 to) with effect from 1 November 2011.
Action
Where Inspectors encounter hydraulic presses covered by the above standard and supplied on or after 1 November 2011 they should ensure two-hand control is not relied on as the sole safeguard against mechanical hazards in the tools area unless the criteria outlined below are met.
If this standard appears not to have been met with machines supplied on or after 1 November 2011, and in any cases where two-hand control is similarly relied on at presses supplied before that date, Inspectors should seek advice from the Manufacturing Sector Engineering Industries Sector in OPSTD.
Background
EN 693:2001 specifies the technical safety requirements and measures to be adopted by designers, manufacturers and suppliers of hydraulic presses. It applies to presses intended to work cold metal or material partly of cold metal, or to be used in the same way to work other sheet materials (such as cardboard, plastic, rubber or leather), and metal powder.
When originally published, clauses 5.3.2 and 5.3.3 of EN 693:2001 permitted two-hand control as the sole means of safeguarding the danger zone in the tools area.  The UK argued that although this provided protection for the machine operator it did not give adequate protection to other workers, particularly at manually loaded/unloaded machines. An amendment has now been agreed restricting the use of two-hand control as sole safeguard to situations where other workers are not put at risk.
5 From 1 November 2011, two-hand control may only be the sole safeguarding device against mechanical hazards in the tools area in production mode where the following conditions are met:
the horizontal access point to the hazard zone of the press is no more than 650mm wide (see Figure 1, below, for layout required where the access is 650mm or less); and
two-hand control devices conform to type III C in EN 574:1996+A1:2008; and
the number of two-hand control devices in operation at a press is equal to the number of personnel operating it; and
other personnel are safeguarded from exposure to the tools area hazards by using:

guards, and/or
fixed work station design, and/or
electro-sensitive protective equipment (ESPE).  The ESPE should incorporate  active opto-electronic devices (AOPDs), conforming to type 4 of EN 61496, or active opto-electronic devices responsive to diffuse reflection (AOPDDRs), conforming to type 3 of EN 61496
Figure 1
Layout for presses using two-hand control where horizontal access to the hazard zone is 650 mm wide or less (view from above).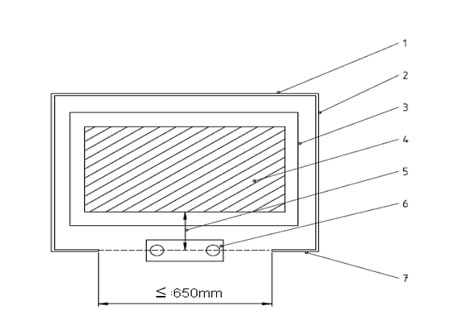 Key
1 Back guard, 2 Side guard, 3 Press table, 4 Hazard zone, 5 Minimum distance (calculated according to BS EN 693:2001 Annex A),6 Two-hand control device, 7 Front guard restricting the horizontal aperture.
Useful references
HSG 180 'Application of electro-sensitive protective equipment using light curtains and light beam devices to machinery'
BS EN 574 – Safety of machinery - Two-hand Control Devices
BS EN 692 – Machine tools - Mechanical presses - Safety
BS EN 693 – Machine tools - Safety - Hydraulic presses
BS EN 12622 – Safety of machine tools - Hydraulic Press brakes
BS EN ISO 13855 - Safety of machinery - Positioning of safeguards with respect to the approach speeds of parts of the human body
BS EN 61496 – Safety of machinery – Electro-sensitive protective equipment