Use of skid steer loaders in poultry sheds
SIM 01/2004/05
Open Government Status

Fully Open

Version No & Date

2: 20/06/2012

Author Unit/Section

OPSTD – Agriculture and Food Sector

Review Date

22/05/2017

Target Audience

FOD inspectors
This SIM informs inspectors about the safety requirements for Skid Steer Loaders and the action to take when users have removed part or all of the ROPS/FOPS for use in old style poultry sheds. It updates information previously issued in NIGM/13AG/1992/10 and AIC 1989/19.
Summary
This guidance informs inspectors about the safety requirements for skid steer loaders.  It describes the key safety issues, and the action to take, when users have removed part or all of the operator's cab in order to allow the machine to be used in poultry sheds that have height restrictions.  Such buildings may prevent the use of a machine that is fully compliant with EN standards.
Introduction
1. To advise inspectors on the agreed set of measures to control the risks associated with the use of modified skid-steer loaders in poultry sheds. 
Action
2. FOD inspectors who encounter deficiencies in the implementation of the control measures should consider taking the appropriate enforcement action detailed in this guidance.
Background
3.  Skid steer loaders are small, highly manoeuvrable compact loaders found in use across a range of industries including agriculture and construction.  They are usually fitted with a shovel or bucket at the front but can be operated with a range of other attachments, such as pallet forks, brushes etc.  The attachment arms are hinged at the rear of the machine; their movement past the body of the machine creates a shear trapping risk.  A cab, entered from the front, protects the operator from this trap and also provides roll over protection and protection against falling objects.
4. Skid steer loaders are the machine of choice for most farmers or contractors who carry out the removal of poultry litter/manure and clean out poultry sheds between crops. However, most machines are over two metres high when fitted with a cab incorporating a Roll Over Protective Structure (ROPS) and Falling Object Protective Structure (FOPS).
5. Many older style poultry sheds are less than two metres high at the eaves and the height clearance to the raised feeders/drinkers can be as low as 1.5 metres.  At the time of drafting this revised SIM (March 2012) there are no suitable alternative machines (such as small tractor loaders, telehandlers or skid-steer loaders) with cabs available on the market that are less than 1.5 metres high that are suitable for carrying out this type of work in sheds with limited clearance.
6. To overcome this, owners/operators have removed all or part of the cab ROPS/FOPS structure thereby allowing them to operate in the reduced headroom of some poultry sheds.
7. These machines have a short wheelbase so are unstable on anything other than level, even ground, thus the removal of the ROPS/FOPS potentially puts the operator at significant risk, should the vehicle overturn.
8. The complete removal of the ROPS/FOPS also exposes the operator to a shearing hazard between the loader arms and the frame of the machine because the cab structure also incorporates Side Protection Screens (SPS). An operator was killed when he leaned out of the cab's central "safe" zone and was crushed by the descending loader arm.  In this case, the ROPS/FOPS/SPS had been completely removed.
9. In addition, some owners/operators have removed the ROPS/FOPS/SPS and also disabled other safety features in the process. These include the safety interlock bar that isolates the foot operated controls which the operator has to step over in order to reach the driving position. There have been fatalities and other serious injuries to operators who have accidentally operated the foot controls when mounting or dismounting the machine.
10. Where the height clearance in the poultry shed allows, a vehicle with a fully EN compliant cab should always be used (eg for activities such as litter/manure removal, cleaning, sweeping, laying bedding etc).
Design features of skid steer loaders
11. Skid steer loaders manufactured to BS EN 474-3 are very compact machines with a short wheelbase and narrow track. Independent motors are used for left and right pairs of wheels. Steering is accomplished by varying the speed of the hydraulic motors on respective sides: tight turns can be achieved by reversing the motor driving the wheels on the inside of the corner.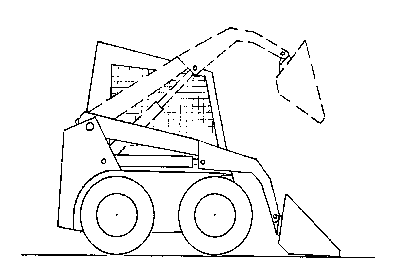 12. Because the operator occupies a central position very close to the zone of movement of the loader frame, they must enter and exit through the front of the machine and over the bucket. Inadvertent operation of the lift arms, bucket or other attachments may also be possible. The operator is enclosed by a cab incorporating ROPS/FOPS, often consisting of perforated steel plate to the sides, rear and top.  The front of the cab is usually an opening without a door.
13. The ROPS/FOPS is required to protect the operator from vehicle overturns and falling objects respectively.
14. The SPS are required to protect the operator from a risk of crush injuries due to the loader arm movements at the side of the cab.
15. Common safety features on skid steer loaders include:
a. ROPS/ FOPS/SPS;
b. Hand-holds are provided for secure access, as are non-slip areas on the loader frame for the operator to use as a step;
c. Interlocked control systems to keep workers from unintentionally activating controls. These interlocked controls require that a non-operational control or fixture (such as a seat belt or restraint bar) be secured or activated before operational controls can function. These include:

i. the seat belt to be fastened;
ii. a bar to be lowered in front of the operator or;
iii. a pressure switch in the seat.

d. Electronic systems to perform the interlocking function. Most bars isolate the hydraulics when raised, several apply the parking brake and/or engage locks to prevent the forward/reverse levers from being moved, and some switch off the engine;
e. A safety interlock on some machines that will prevent the engine from starting unless either the seat is occupied or the seat belt is buckled up. The engine will stop if either switch is deactivated;
f. Some form of locking device will be supplied/fitted to lock the loader in the up position for maintenance purposes – for example ram stops and extending pins built into the ROPS frame.
Accident history
16.  Typical accidents with skid steer loaders have included:
a. Being crushed between the bucket and frame of the machine or between the lift arms and frame;
b. Leaning out of the operator's zone into the path of the loader frame;
c. Entering/exiting the loader and being pinned between loader and frame;
d. Rollovers;
e. Pinning between loader and other objects;
f. Being run over by the loader.
17.  Typical causes of accidents/deaths:
a. Operating controls from outside the machine;
b. By-passing interlocking devices;
c. Faulty and poorly maintained equipment;
d. Removal of the ROPS/FOPS/SPS protection.
e. Lack of operator training
Advice to users
18. The Provision and Use of Work Equipment Regulations (PUWER) 1998 requires duty holders to ensure that work equipment complies at all times with the Essential Health and Safety Requirements (EHSR) that applied to the equipment at the time of its first supply or first use. Skid steer loaders also come within scope of the European 'C' standard on mobile construction machinery namely BS EN474-3: 2006+A1:2009 'Earth-moving machinery – Safety – Requirements for loaders'.
19. As a result CE marked machines are regarded as meeting the relevant EHSRs - in particular EHSR 3.4.3, which requires specified earthmoving machinery (including loaders) with a capacity exceeding 15 kW to be fitted with ROPS. The standard also prescribes that loaders are designed and fitted with FOPS if they are used for applications where there is a risk of falling material and side protection (SPS) to prevent the operator from reaching into a shear trap while seated.
20. Therefore, if a user subsequently removes any part of the ROPS, creates a shear trap by removing the SPS or removes the FOPS where there is a risk of falling material, then the machine becomes non-compliant ie the requirements of regulation 10(1) of PUWER are no longer met and the risk of injury to operators is increased.
21. In the absence of suitable vehicles fitted with ROPS/FOPS/SPS which can access poultry houses with limited height clearance, HSE has discussed potential solutions with the poultry industry and agreed a set of control measures. These measures should reduce the risks associated with modified (non-compliant) skid steer loaders used in poultry houses.
Control Measures
22. Alternative solutions to non-compliant skid steer loaders should be used where possible eg select and use smaller machines (as and when they become available on the market) or other suitable equipment to access the sides of the sheds where restricted height is a problem and then use a fully compliant skid steer loader, telescopic handler or other machine (ie CE marked machine with an unaltered ROPS/FOPS/SPS fitted) to remove the debris from the centre of the shed, where generally there are greater clearances.
23. Otherwise, implement a control strategy that includes the following elements:
(i) Draw up a positive replacement plan to bring in smaller/alternative machines if they become available which do not have to be modified, ie they would be fully compliant with relevant safety requirements.
(ii) When old sheds become obsolete they should be replaced with new sheds with greater head clearances. The Construction (Design and Management) Regulations 2007 place duties on both designers and clients to ensure that hazards relating to the use of a building as a workplace are eliminated or minimised. HSE have also proposed an amendment to BS 5502:1990 Part 43 'Code of practice for the design and construction of poultry buildings' to raise the height of new sheds to 2.1 metres at the eaves.
(iii) Do not use skid steer loaders with any part of the SPS removed that would result in a shear-trap being created for the driver by the movement of the loader booms (arms) while in the seated position.
(iv) Ensure that all other safety devices are in place, fully functioning and properly maintained, eg the safety interlock bar is still fitted & working;
(v)  Devise and implement a written safe system of work (also known as a method statement). This should make it clear that non-compliant skid steer loaders are not to be used in sheds where it is reasonably practicable to use a machine with a full ROPS/FOPS/SPS cab fitted.
24. A written safe system of work/method statement should:
(i) Identify sites/sheds where non-compliant skid steer loaders have to be used;
(ii) Specify that modified machines will only be driven by operators who  have received adequate and suitable training in safe operating procedures (see also paragraph 26 below);
(iii) Stipulate that as far as reasonably practicable non-compliant machines are only to be used in specified low sheds and these are identified in the safe systems of work/method statement;
(iv) Prohibit the use of non-compliant machines on farms with  sheds that have adequate headroom to allow the use of fully compliant machines;
(v) Describe the arrangements for monitoring the systems of work by supervisory staff on site;
(vi) Require suitable personal protective equipment to be worn (eg hard or bump hats and respiratory protection);
(vii) Include the arrangements to ensure the safe transportation of skid steer machines (eg loading and unloading procedures);
(viii) Identify and address any other significant site-specific risks.
25. This guidance should be read in conjunction with HSE publication 'Controlling exposure to poultry dust'. This describes the requirements, where reasonably practicable, to use vehicles with enclosed ventilated cabs (fitted with filtered air intakes) as the first option to prevent exposure to harmful poultry dust. It also provides guidance on RPE/PPE requirements where ventilated cabs with filtered air intakes are not available.
26. Training for skid steer operators is a legal requirement under PUWER.  Operators should receive basic training in how to operate skid steer loaders safely and this should also be supplemented with training applicable to the use of modified machines if operators are required to drive them.  Operators and their supervisors should be familiar with the contents of this SIM and the system of work/method statements set out in paragraph 24 as necessary.  For more details about organisations that provide training and/or competency assessments– see Further references.
Enforcement action by inspectors
27. If deficiencies are encountered Inspectors should consider taking enforcement action.  Examples are given below:
a. Prohibition Notice (PN) - Skid steer loader with any part of SPS removed creating a significant shear or crushing trap while the driver is in the normal operating (seated) position [H & S at Work Act, 1974, Regs 2 or 3, alternatively PUWER Reg 10(1)];
b. PN - Safety systems (such as those described in paragraphs 11c-11e) have been removed or by-passed [PUWER, 1998 Regs 10(1) and 11];
c. Improvement Notice (IN) – lack of adequate or suitable training in the safe use of the machine [PUWER, 1998 Reg 9];
d. IN - No safe systems of work [PUWER, 1998 Reg 8];
e. PN - Parts of ROPS/FOPS/SPS removed and loader is being used in a shed where an unmodified machine could be used (PUWER Regs 10 and 4);
f. PN - No restrictions specified on the use of skid steer loaders, with roof section removed,  [PUWER Regs 4 and 8];
g. IN - No maintenance regime [PUWER Reg 5];
h. IN - No risk assessment [Management of H & S at Work Regulations, 1999 Reg 3].
Benchmark standard
28. The benchmark is compliance with PUWER and all the relevant BS, EN or ISO standards including BS EN 474-1: 2006+A1:2009 and BS EN 474-3: 2006+ A1:2009. This standard includes the requirements for the fitting of FOPS, ROPS and SPS that prevents the operator from reaching the trapping parts between the side arms and fixed parts of the machine when the operator is seated in the operator's position.
Risk gap
29. The risk gap from Enforcement Management Model (EMM) table 2.1 for the key scenarios is summarised below. Inspectors may use these scenarios as a guide to making their assessment of actual risk and the subsequent risk gap. However, inspectors must ensure that they base their assessment of risk on the actual operator protective measures found on the machine.
| Scenario | Actual risk | Risk gap |
| --- | --- | --- |
| Top of cab removed but used in circumstances where an unmodified machine could operate. | Risk of a serious personal injury | Substantial |
| Side Protection System removed | Risk of a serious personal injury | Substantial |
| Any machine where, the safety bar/operator restraint system has been removed | Risk of a serious personal injury | Substantial |
Appropriate standards
| Title | Authority |
| --- | --- |
| Provision and use of work equipment Regulations 1998 | Defined |
| BS EN 474-1:2006+A1:2009 Earth- moving machinery - Safety - General requirements | Established |
| BS EN 474-3:2006+A1:2009 Earth-moving machinery - Safety - Requirements for loaders | Established |
| BS EN ISO 13857:2008 Safety of machinery - Safety distances to prevent hazard zones being reached by upper & lower limbs | Established |
Further references
31.    For details of operator training courses/competency assessment for skid steer loaders see the following websites:
Other sources of training/assessment may also be available.
Contacts
32.  For further advice on occupational safety issues contact Agriculture and Food Sector, Worcester.
For further advice on occupational health issues contact Agriculture and Food Sector, Nottingham.