Cold cutting circular saw
The Problem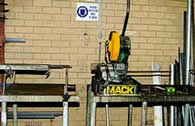 A mobile electrical contractor company had a small maintenance workshop in which the cold cutting circular saw was a major noise source.
The Solution
The saw was remounted using rubber mats.
The feed table was disconnected from the saw table to avoid the free transfer of vibration.
The Results
The noise levels were reduced by 4dB, from 94dB to 90dB whilst cutting 3mm sheet metal.
The Costs
£95 (2005 rates)
Information supplied by
Reproduced courtesy of Worksafe, Department of Consumer and Employment Protection, Western Australia.
Browse similar case studies
Activity
Noise control technique
Industry