CNC punch press
The Problem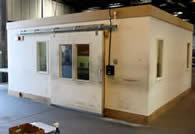 Three large CNC punch presses were generating high levels of noise in an otherwise 'fairly' quiet workshop area.
CNC punch press
The Solution
An in-house designed acoustic enclosures constructed on site by a local contractor consisting of:
20mm MDF either side of wooden frame
100mm cavity packed with mineral wool
External skin of 12.5mm plasterboard with plaster skim
10mm 'double glazed' Perspex viewing window
Standard U-section sliding door with brush seals with interlock system
Externally mounted machine controls
Full modular construction enabling maintenance and removal of machines
An interlock door system negates the need for light barrier or a pressure-sensitive pad safety system and lowers insurance premium.
The Results
Measured internal to external field level difference of 25dB resulting in a much quieter workshop environment.
The Costs
Approximately one third of the price of standard commercially available industrial metal acoustic enclosure system.
Information supplied by
HQC Ltd.
Browse similar case studies
Activity
Noise control technique
Insulation (enclosure/screen/barrier)
Industry