Enclosure of multiple spindle drilling machine
The Problem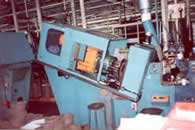 In the production of brake pads, multiple spindle drilling machines are used to drill the different holes required for each type of pad. The machines produce high noise levels in excess of 95dB. Considerable access was required and hinged safety guarding was provided.
The Solution
The existing guarding was replaced with a sliding localised acoustic enclosure which were fitted with interlocks. The panels consisted of 1.2mm sheet steel, an infill of 50mm of mineral wool of a density of 100kg/m3, and an inner skin of 0.8mm thick perforated steel having an open area of 34%. The windows are constructed from a 6mm thick polycarbonate sheet.
The dust extraction ductwork was also fitted with a two diameter long straight through circular silencer to reduce the extraction noise.
The Results
The noise levels were reduced by 6dB.
The Costs
£4,000 for the full treatment (2005 rates).
Information supplied by
Ferodo UK & PDA Ltd.
Browse similar case studies
Activity
Noise control technique
Industry