Engineering - Frequently asked questions
What are the health risks associated with metalworking fluids and what can I do to reduce the risks?
Exposure to metalworking fluids can cause; irritation of the skin/dermatitis and lung diseases, such as occupational asthma and occupational hypersensitivity pneumonitis.
Control of Substances Hazardous to Health Regulations (COSHH) requires exposure to metalworking fluids by inhalation, ingestion or skin contact to be prevented where reasonably practicable, or failing that, adequately controlled.
You should:
To achieve the necessary control and risk reduction, among other actions, you will need to:
Further information
Can I use compressed air to remove swarf and blow down machined components and engineering machinery?
The use of compressed air to remove swarf, dust and fluids from machined components presents a number of risks to both the health and safety of those involved.
There is a risk of compressed air entering the operator's bloodstream, which can result in death.
Eye injury including blindness can occur if dust particles or swarf bounce back at the operator.
Droplets of metalworking fluid can be absorbed by operator clothing and eventually reach the skin. This can result in dermatitis, especially on the hands and arms lower torso.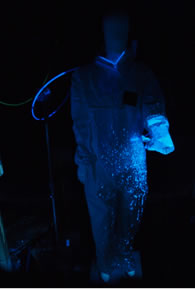 Photo showing MWF on clothing of worker using compressed air to clean machined components
The use of compressed air may also increase metalworking fluid mist levels in the area around the machine. Metalworking fluid mist is a known cause of respiratory ill health including asthma.
Noise levels are normally high and there is a significant risk of permanent hearing damage from prolonged exposure. Hearing loss can never be restored.
A number of precautions can be taken to reduce the risks and should form part of the risk assessment required for this activity:
Identify alternative methods of carrying out these tasks, such as the use of vacuum equipment, absorbent materials, low-pressure coolant guns, spindle-mounted fans or automatic compressed air hoses (operated with CNC enclosure doors shut).
Blow down components in an extracted enclosure. This could be the machine if it is enclosed and fitted with an effective extraction system.
Reduce the exit pressure of the compressed air to as low a level as practicable (as a guide 30psi/2.1 bar is effective at cleaning). Gauges are commercially available for testing this exit pressure.
Consider using air nozzles which have been designed with noise reduction in mind.
Increase the length of the air gun.
Provide appropriate training, personal protective equipment, supervision and health surveillance.
It is a myth that only a noisy compressed air system is effective. Advances in compressed air technology mean that modern systems, if well maintained, can be just as effective producing less noise and using less energy.