Fatality caused by stacked boards collapse
Health and Safety Executive - Safety alert
Department Name:
Operational Strategy Division - Manufacturing Sector (Wood, Textiles and Printing Team)
Bulletin No:
OPSTD 8-2010
Issue Date:
7 July 2010
Target Audience:
Woodworking and Forestry, Manufacturing (General), Construction, Education, Retail, Warehousing, Local Authority
Key Issues:
Falling stacks of boards. Risk of serious injury or death. Important reminder to those who use and store boards and sheets to do so safely.
Introduction:
In a recent incident a worker was killed whilst he was helping to remove a board from a stack leaning against a wall. He lost control of the weight of the boards and they fell on him causing serious head injuries. In an earlier almost identical incident at another site a worker had his legs crushed.
The term 'boards' used in this bulletin also includes sheets and other similar materials such as doors, panels, worktops etc. These are common products used throughout the manufacturing and construction industries. They can be either wood based such as chipboard, plywood or medium density fibre board (MDF), or made from other materials such as plasterboard.
Although often large and awkward to handle the retrieval and movement of boards from storage is considered by many users to be a relatively low risk activity. However, boards are heavy and it is easy to lose control of them when they are being moved. This problem is made much worse when they are stored together in a stack leaning against a wall and several boards fall at once. Purpose designed storage racking will prevent this type of incident. These racks are relatively easy to construct and can often be made 'in-house'.
Background:
Wooden boards generally have a standard size of 2440 x 1220mm (or divisions of) and can range in thickness from 3mm to 35mm. A single 18mm thick plywood board of this size weighs approximately 30 kg.
Over the last seven years there have been at least three fatalities caused by falling boards, including that of four year old child who was killed by a falling stack of kitchen worktops. There are always a number of major injuries reported every year.
Action required: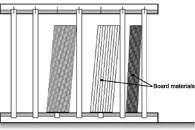 Wooden boards placed in a purpose designed storage rack
Those organisations who use boards on their premises should take immediate steps to review their current arrangements of how board are stored and moved. Steps should be taken to provide suitable storage racking such as that illustrated, and appropriate handling aids as part of a safe system of work for retrieval and moving the boards.
Relevant legal documents:
Health and Safety at Work etc. Act 1974
Workplace (Health, Safety and Welfare) Regulations 1992
Management of Health and Safety at Work Regulations 1999
Construction (Design and Management) Regulations 2007
Manual Handling Regulations Operations 1992
Reporting of Injuries, Diseases and dangerous occurrences Regulations 1995
References:
Video examples of good practise when handling boards can be seen at the woodworking manual handling webpage
Further information:
Health and Safety Executive
Manufacturing Sector (Wood, Textiles and Printing Team)
City Gate West
Toll House Hill
Nottingham
NG1 5AT
General note:
Please pass this information to any colleagues who use or store boards.