Score sheet
Once a score has been assigned to each risk factor, transfer the scores to the score sheet.
You can record scores for both arms on the single score sheet. In this case, some risk factors are recorded on the score sheet twice, even though they are only assessed once (eg neck posture, back posture, breaks, etc).
To calculate the task score, add the scores down the column.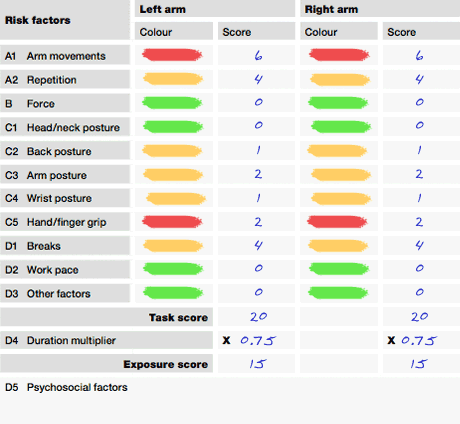 If you assess both arms, the scores for the left arm and right arm should be kept separate and not combined.
You can adjust the task score to reflect the total duration that the task is performed by an individual worker.
Task score x duration multiplier = exposure score
The task scores and exposure scores are intended to:
Help prioritise those tasks that require the most urgent attention.
Help check the effectiveness of any risk reduction measures put into place.
The colours assigned to the risk factors help identify where to focus risk reduction measures.
Now you are familiar with the score sheet try following an ART walkthrough, or find out more about what the scores mean.