Reducing air exhaust noise in vertical grinders
The problem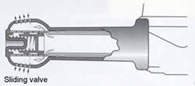 Cross-section of a grinder exhaust active value (Half open position)
Pneumatic tools can emit high noise levels, much of it from the exhaust of the compressed air that drives the motor. Each time one of the motor vanes passes an exhaust port, the air contained between the vane and the next is emptied into the exhaust system. The rotation of the vanes creates a series of pressure waves moving through the exhaust pipe. Additionally, there is usually a degree of aerodynamically generated noise caused by the velocity of air passing through a narrow exhaust hole.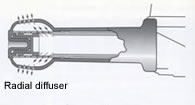 Cross-section of a grinder exhaust active value (Fully open position)
While conventional reactive silencers are effective at reducing noise emission, they are not generally used because the back pressure they impose on the air flow adversely affects the power output and air consumption.
In one type of pneumatically-driven tool, a hand-held vertical grinder, A-weighted noise levels of 85 dB can be reached during machine idling, with peak values of over 90 dB during start up or shut down.
The solution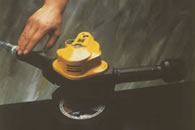 Grinder
One manufacturer of such tools has achieved good attenuation without causing excessive back pressure by using a spring-loaded valve in the exhaust. As the pressure of the exhaust air varies, the valve opens or closes the exhaust opening in quick response, as shown below. The mechanism keeps the back pressure in the motor exhaust roughly constant and virtually independent of the air flow.
The high-frequency noise generated when air passes through the radial holes is attenuated by means of a diffuser at the end of the handle. The pattern of holes in the diffuser is designed to generate a very small pressure drop and so the air speed in the outlet hole is slow.
The solution also means that the valve automatically closes when the machine is not in use. This protects the machine from contaminants which could find their way in through the exhaust.
The cost
Negligible difference over traditional grinders. (1995)
The result
A noise reduction of between 5 and 10 dB.
Source
Photographs courtesy of Atlas Copco Tools Limited. Equipment designed and manufactured by Atlas Copco Tools Limited.