Modifying acoustically-treated control booths
The problem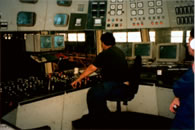 The manufacture of steel rod involves a continuous production line to heat square steel billets in a furnace before passing them through a series of about 25 forming stands. They are then coiled and secured as finished wire ready for despatch. In one company, the production line was 200 m long and A-weighted noise levels averaged about 90 dB. The size and nature of the plant rendered acoustic treatment impracticable.
The solution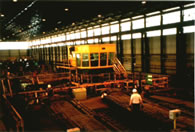 The company located a series of booths along the line, with each containing the controls necessary for normal operation of that particular section. The booths were either set back from the line or located centrally above it, so that various stages of production could be watched. Where more detailed inspection was required, closed-circuit television was operated from within the booth.
The booths were made from standard acoustic panels with double-glazed plastic windows which reduced the ambient A-weighted noise levels to about 70 dB. The first design was further improved by replacing the original doors with 100 mm thick steel acoustic doors, ensuring good positioning and effective compression of the seals when closed. The air-conditioning units - which emitted A-weighted noise levels of 80 dB when running on a fast setting - were also removed, with quieter ones being installed in their place.
The cost
About £800 per door and £300 for the air-conditioning unit. (1995)
The result
A noise reduction of 8 dB from the new doors. Up to 20 dB from the new air-conditioning unit.
Source
Information and photographs courtesy of Allied Steel Wire.