Enclosing cold heading machines
The problem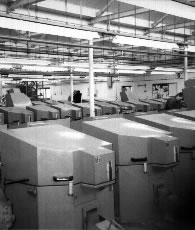 The factory floor of one shoe manufacturer contained a considerable number of similar cold heading machines, with A-weighted noise levels measured at around 104 dB.
The solution
The company approached an acoustic consultant to help design a custom-made enclosure. This included features required by the operators, such as an easy to raise hood and profiled corners for easy access. The design was first built in plywood to check on its acceptability. Once approved, tenders were sought for a steel version.
After receiving quotations, the company realised that it could achieve a significant saving by building the units in-house, in conjunction with the acoustic consultant. The enclosure was built using standard acoustic panels of 50 mm thick mineral wool between skins of plain and perforated steel sheet. The panels also included a Melinex wrapping to protect the mineral wool from oil and an anti-drumming sheet to limit panel vibration.
The enclosures had three openings - the wire feed at the front that passed through a tube surrounded by a brush strip; the product discharge chute; and a drive belt fed through a PVC plate with two slots cut into it.
The cost
About £400 per enclosure. (1995)
The result
A noise reduction of 19 dB. As a result of reducing the noise levels, the company was able to reorganise the production area to improve work flow and response times. Machines were positioned in a manufacturing cell arrangement together with equipment for subsequent processing operations, inspection and packing. The benefits of the reorganisation meant that the costs of the noise control programme were recouped after only three years.
Source
Photographs courtesy of British United Shoe Machinery Ltd. Acoustic consultants were RS Allsopp and Associates.