Powder grinder
The Problem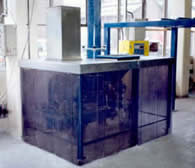 A manufacturer of paints use grinders to produce powders of a controlled particle size for use in their paint manufacturing process. Noise from powder grinders was severe creating daily noise exposure levels of 97dB. Sources of noise on the machine included casing radiation from the body of the grinder, electric motor noise and noise from a ventilation channel that led directly into the grinding chamber.
The Solution
A mobile acoustic enclosure was created using a metal framework on wheels, which was then covered with acoustic strip curtains.
A straight through rectangular silencer was incorporated in the top panel for ventilation. The top panel consisted of an 1.2mm galvanised sheet steel outer skin, a 0.8mm galvanised sheet steel perforated inner sheet having an open area of 34% and an infill of 50mm mineral wool of a density of 100kg/m3.
The Results
Noise was reduced by 12dB.
The Costs
£2500 for an enclosure that was 2m by 1.5m by 1.5m.
Information supplied by
Croda Paints Ltd. & PDA Ltd.
Browse similar case studies
Activity
Noise control technique
Industry