Risk-reduction through design award
The 'Risk-reduction through design' award is sponsored by the Health and Safety Executive (HSE) and the Chartered Institute of Ergonomics and Human Factors (CIEHF).
We want to inspire businesses to consider how ergonomics-based design changes can reduce the risks of work-related musculoskeletal disorders (MSDs) and nominate design changes that have made a real impact.
HSE's message continues to be that risks from MSDs must be controlled and that all employers should eliminate or reduce these risks at source where possible.
2023 award winner
Zebra Technologies Preston (Printing Sector)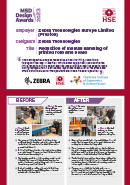 2023 commended entry
Barrett Steel (Shoreham)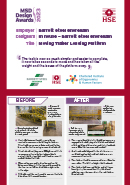 Barrett Steel
Barrett Steel have been commended for their design of a moving trailer platform, making the task much easier to complete.
The in-house design team designed a rail track for the loading platform to run on, enabling the platform to be easily moved into position and mitigating manual handling issues.
Design solution case studies across sectors
Examples of design solutions which cover the following industry sectors.
Chemical
Construction
Education
Healthcare
Manufacturing (Aerospace)
Manufacturing (Food)
Manufacturing (Textiles)
Metals
Printing
Railways
Utilities