Valves
Know about the valves in your installation
All bulk LPG installations providing LPG as a vapour must be provided with:
a regulator to maintain the gas supply pressure within the range at which the appliance has been designed to operate safely;
where an installation is subject to the Gas Safety Installation and Use Regulations (GSIUR) over-pressure shut-off and under-pressure shut-off valves which provide back-up protection should the regulator fail or the gas supply pressure falls to a dangerously low level, for example if the bulk tank becomes empty for some reason.
OPSO (over-pressure shut-off) valve - This device must be re-set only by the gas supplier if it trips out and shuts off the gas supply when over-pressure conditions exist.
UPSO (under-pressure shut-off) valve - This device may be re-set by the gas user if it trips out and shuts off the gas supply when the gas pressure drops below its set pressure value.
A pressure relief valve (PRV) is a valve fitted to the top of a bulk tank to relieve internal pressure within the tank if this were to increase due to external influences, such as thermal radiation impact from a fire.
Tank with pressure relief valve
Combined valve & regulator

Regulator

Lockable valve cover
Emergency control valve (ECV)
An ECV is intended to allow the gas user to shut off the supply of gas in the event of an escape. Where an installation is in the scope of GSIUR, the ECV must be within reach and situated as near as reasonably practicable to the point where the pipe supplying gas enters the premises. ECVs are required under GSIUR but we recommend that these are fitted also at factory premises.
In the case of rented property, the landlord or managing agent should ensure that the tenant(s) are aware of the location of the ECV.
ECV in closed position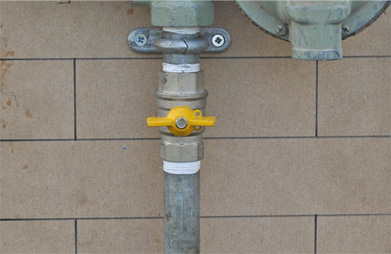 ECV in open position