Acoustic refuges
The problem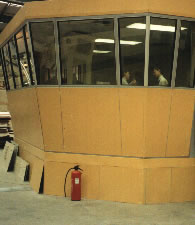 Where it is impossible to separate workers from noisy equipment, but their hearing needs to be protected, an alternative approach is to use noise refuges. For example, a firm that manufactured cardboard containers installed a noise refuge to provide an effective working area close to the main production lines where A-weighted noise levels approaching 97 dB had been measured.
The solution
The firm had a fully air-conditioned enclosure installed, consisting of double-skin acoustic panels that incorporated acoustic glazing to give good all round visibility into the production areas. Internally, the refuge was finished to office standards - tiled floors and acoustically absorbent ceiling and walls.
The cost
No costs available. (1995)
The result
The example shown produced a difference between outside and inside noise levels of some 30 dB.
Source
Refuge manufactured and supplied by Noise Reduction Limited.