Coating pans
The Problem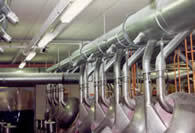 The production room in a confectionary factory contains thirty-eight coating pans. A motor, which is housed in a large enclosure, drives each pan as a sticky syrup is introduced into the pan, which coats the product. Each pan is also provided with an extraction system as can be seen in the photograph. The operators move around the entire room attending to all the pans and the spatial average noise level was 93dB.
The Solution
A lay in acoustically absorbent ceiling was installed across the entire room.
This ceiling had to be cut around the many pipes and ducts and the small gaps produced were then sealed air tight using non-setting mastic.
Hygiene requirement meant that the ceiling tile had to be fully washable.
The Results
The average reverberant noise level was reduced by 6dB to 87dB and the operators' noise exposures were reduced by 4dB.
The Costs
Cost for this type of washable absorptive ceiling is around £43 per square metre, supply only (2005 rates).
Information supplied by
Cadbury Ltd. & PDA Ltd.
Browse similar case studies
Activity
Noise control technique
Industry