Installation of hydraulic cropping machine
The task
Removing flash and excess metal (fettling) from nodular iron castings.
The problem
At one foundry, cast exhaust manifolds used to be fettled by two groups of five workers using hand tools. In this process, one worker knocks off the larger pieces with a lump hammer and then puts the castings onto a conveyor. The casting is carried to three others who in turn operate a large pedestal grinder, a chipping hammer and a straight grinder. Finally a fifth person inspects the castings for any defects. The chipper and straight grinder used are types which can produce vibration magnitudes as high as 12 m/s2 and 6 m/s2 respectively. The pedestal grinder is of the type which can expose operators to magnitudes of around 10 m/s2. The exposure times were such that each operator was exposed above the exposure action value.
The solution
The company installed a hydraulic cropping machine, in which the castings are held in a fixture and the bulk of the flash is removed with a single blow from a specially made tool, pushed by a hydraulic press. Some work still has to be done with the grinders, although much less than before. The lump hammer is no longer used at all. With the new machine, a single, rotating group of six people fettle marginally more castings in a day than the two old groups together. Vibration exposure is now below the exposure action value.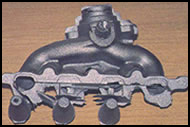 Casting before fettling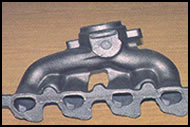 Casting after fettling
Cropping machine showing castings in fixtures
The result
Daily vibration exposure for the operators has reduced.
The machine has improved quality, and produces a more consistent and neat finish.
Productivity has improved by about 80%.