Paint-on material avoids scabbling
The task
Preparing cast concrete for adhesion to new material.
The problem
Large concrete structures are generally cast in stages by pouring liquid concrete into fabricated moulds. To ensure correct adhesion between stages it is necessary to roughen, or scabble, the mating surfaces of the hardened concrete. On one site, needle guns that exposed operators to vibration magnitudes of more than 9 m/s2 were sometimes used for this operation for nearly 2 hours per day.
The solution
The company used a retarder. This is a material which can be painted onto the inside of the mould in the areas where scabbling would have been necessary. This prevents the surface concrete from curing so that the top few millimetres of material can be removed with a standard pressure washer after removal of the mould, leaving a surface ideal for adhesion. The material can be used safely by following the handling instructions on the safety data sheets supplied by the manufacturer.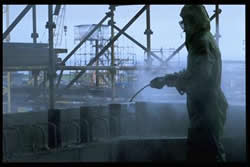 Removing excess material with jet washer
The result
There is no vibration exposure for the operators.
It increases productivity, eg a job which would have taken half a day with needle guns can now be done in 10 minutes with reduced cost.
Noise and dust exposure are reduced.