A worker was injured when he slipped onto a woodworking machine
The problem
An employee in a pine factory slipped and cut himself on a poorly guarded machine whilst in the course of his work. As a result of this injury, HSE served a health and safety improvement notice on the company because the floor was found to be unacceptably slippery in dry conditions. In addition, it was also noted that furniture wax was being transferred directly onto the floor as products were being pushed around the factory and this may have contributed to the original accident.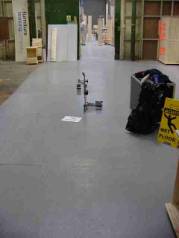 Testing the slip resistance of the factory floor.
The solution
Trolleys were introduced to move large items of furniture around the factory. This also helped to reduce manual handling. Areas of the floor around machinery were also painted with an anti-slip treatment to improve the slip resistance in these areas where people were working close to other hazards.