Dust suppression on dusty roads
Quarries and construction sites are dusty places, especially in the summer. Much of this dust is on the ground and when dry, it can be thrown up into the air by trucks and other vehicles.
Dusts, regardless of what they contain, have recently been identified as possible causes of COPD.
Once dust is in the air, it is very hard to control. One of the simplest ways of controlling it is to stop it from getting into the air. Where there is regular traffic, this can be done with simple roadway water sprayers and wheel washers.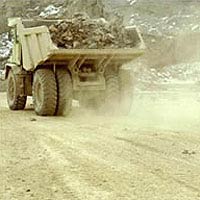 This quarry truck is throwing up a large cloud of dust. This dust remains in the air for a long time.
The smaller dust particles, which can get deeper into the lungs and cause more damage, will remain in the air for the longest time.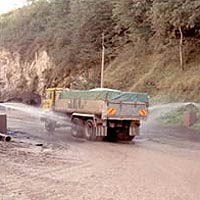 In this picture a quarry truck passes through a wheel washer. This helps to prevent the truck from throwing up dust from the roadway.
It also helps to stop dirt from being trailed into the surrounding area and annoying your neighbours.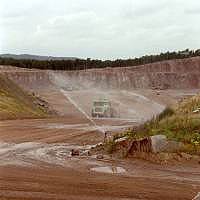 In this image, water jets are being used to keep a busy quarry roadway damp.
This helps to prevent the dust from being thrown into the air by the trucks and other vehicles.
This reduces the workers exposure to dust, leading to a healthier workforce.